We're happy to announce InvenioRDM v1.0!
VERY IMPORTANT, read the full release notes before you install and run the system! The v1.0 label does not mean the system is suitable for production use!
FAQ (do not skip!)
Can I use v1.0 in production?
No. Do not even try, or think it might work out!
When can I use InvenioRDM in production?
The first release of InvenioRDM that you can use in a production system will be the LTS (Long-Term Support) release due in end-July.
Why the v1.0 label?
We follow semantic versioning, and in the coming months we'll be releasing v2.0, v3.0, etc. We use the v1.0 label because we're now in a state where the project partners can start running demo systems to demonstrate the progress of the project to their stakeholders. Furthermore, the project partners will be able to start user testing more widely.
Can I upgrade from v1.0 to v2.0?
Read the upgrade contract below.
Upgrade contract (do not skip!)
The following "contract" is meant to align expectations on how and what you'll be able to upgrade from v1.0 to v2.0.
You MUST expect breaking changes to anything on subsequent releases until the LTS release! REST APIs, programmatic APIs, features, Jinja/React templates, data model, vocabularies, etc.
We will ONLY guarantee that you will be able to upgrade a database created with v1.0 to v2.0. With that, we mean that through a manual, labour intensive and offline process you'll be able to upgrade your database. Basically this boils down to, that we will document the steps you need to apply in order to move your data from v1.0 to v2.0 code. In no way do we promise it will be easy! You MAY need to apply manual changes to records. We of course plan to make this an easy and smooth process for the LTS release, but for now it's not.
What's new?
Now that you've hopefully read all the above and are very scared of installing InvenioRDM in production (you should be!), then let's share a bit of the excitement we have for the release this month.
We have reached a really major milestone for InvenioRDM. We now have a minimal working repository with a minimal acceptable user experience with a very minimal feature set. From now on, we are in a releaseable state! That means that in the coming months we'll be improving the UX, the feature set, the stability and production readiness, and thus we're in a very good position for accomplishing our production-ready LTS release in end-July.
Below you'll find the specific areas we've been working on this month.
Access control
The major new feature this month is the support for minimal access control.
The deposit form now has a new protection widget that allows you to deposit records in the following categories:
Public records with public files
Public records with restricted files (with or without embargo)
Restricted records with restricted files (with or without embargo)
Public metadata-only records
Restricted metadata-only records (with or without embargo).
Below are some examples of how this now looks in the deposit form:

Restricted records and files
Restricted records and files are only visible for the owner (the user who deposited the material). This means that e.g. a restricted record will not show up in the search results of other users.
User without access (no files and no edit button visible):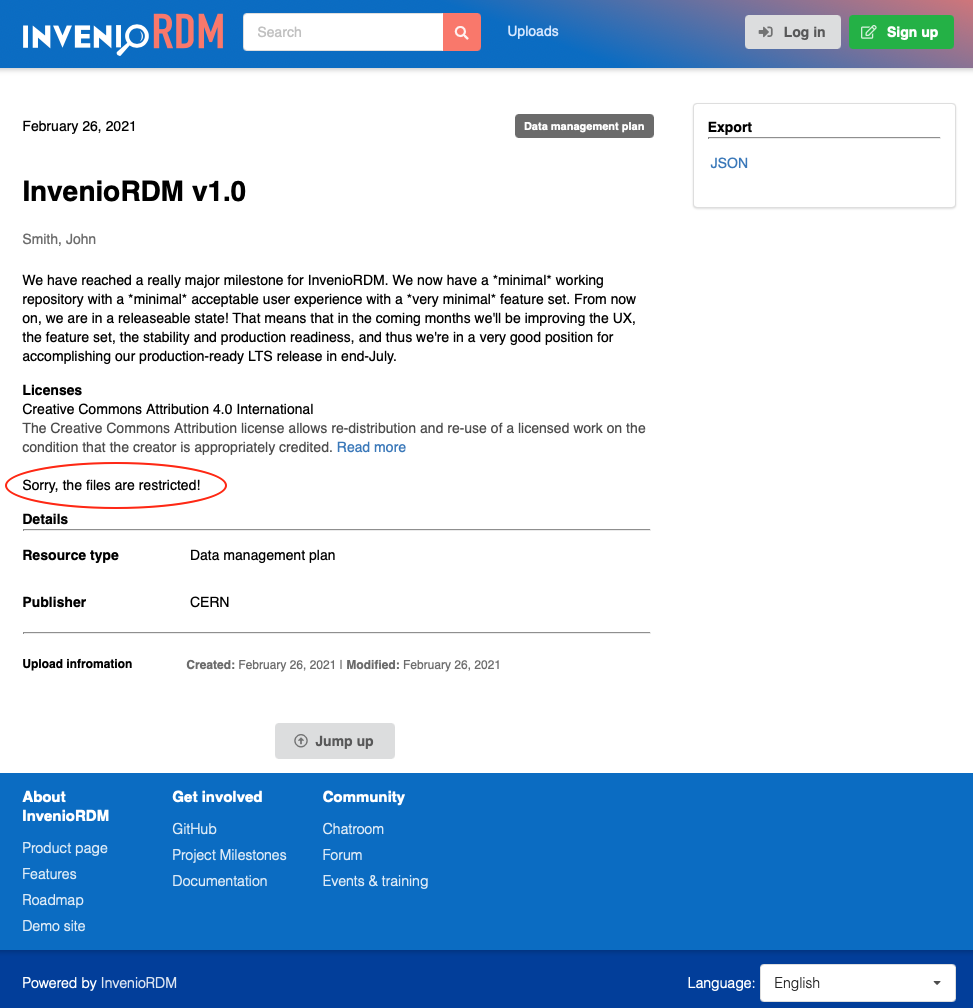 User with access (files and edit button visible):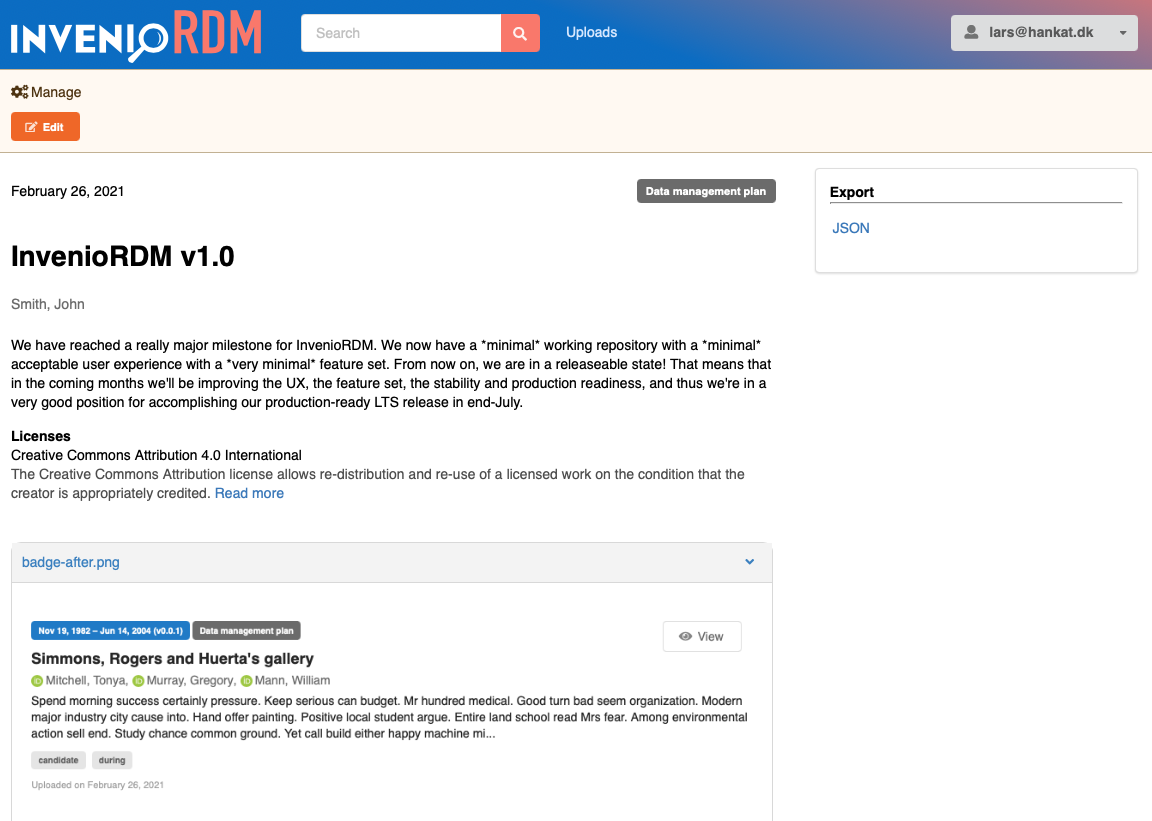 Note, that the message "Sorry, the files are restricted!" is a temporary message, until we have a solution for the access badge (see next section).
Limitation: Access status
We have temporarily removed the access status badge (see before/after screenshot below) until we have found a suitable solution for the badge. The current badge was not easily transferable to the new access control, and is mixing indications about if you can access a record, and/or if files are available.
Before:

After:

Limitation: Embargo feature
You can apply an embargo period to restricted files or records. Once an embargo period is over the record/files are supposed to be made automatically publicly accessible. In v1.0 however, we were not able to include the background job responsible for doing this automatically.
We'll ship this task in the March v2.0 release.
Limitation: Manage permissions
Currently, only the owner is able to see a restricted record/files. In future releases, we'll of course add the support for managing permissions, so that restricted records and files can be shared with colleagues, groups and entire institutions.
Access backend
Underneath the hood, we have prepared the entire access control system to be able to share access with other users, communities, IP networks, etc. Thus, the backend part for allowing management of permissions is almost done, while we are primarily missing the frontend that allows an end-user to interact with the permission system.
Minimal UX
Disabled unfinished features
We have disabled all unfinished features from the user interface. We have for instance disabled the communities module, the version flip-switch in search results, a button to the advanced search and so on.
The features will be added back, once they have reached sufficient quality to be running in a demo system.
Deposit form fields
We have also removed all deposit form fields from the user interface that were not ready. Each of these fields will be added back progressively as they are finished. Most notably we e.g. had to remove the subjects field for this release.
Field help text
We have added help text to as many fields as possible. Please provide feedback, if they are understandable.
Styling issues
We have fixed a large number of small styling and consistentcy issues. Still some remain, and you're feedback is very much appreciated on anything you find in this respect.
List uploads
The list uploads page now has a nice greeting for first time users: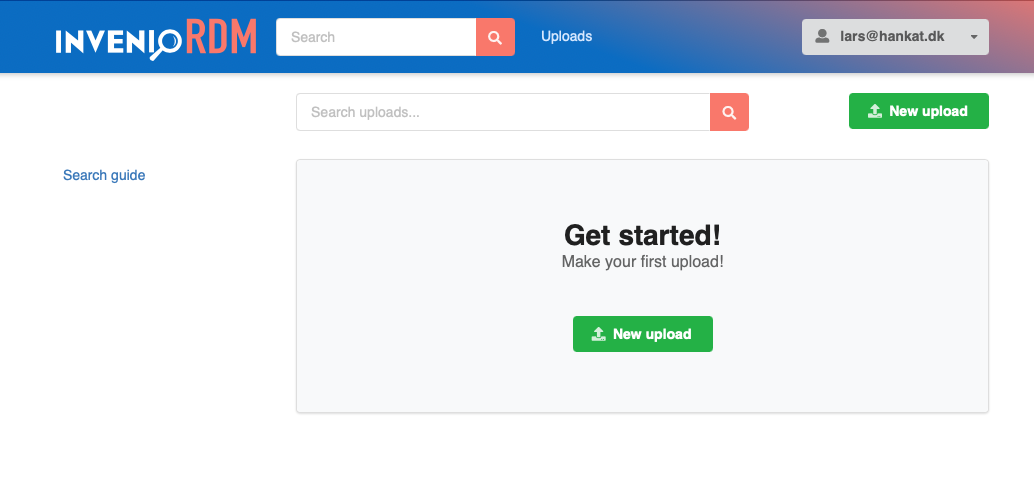 Also, the overall styling of the page was improved: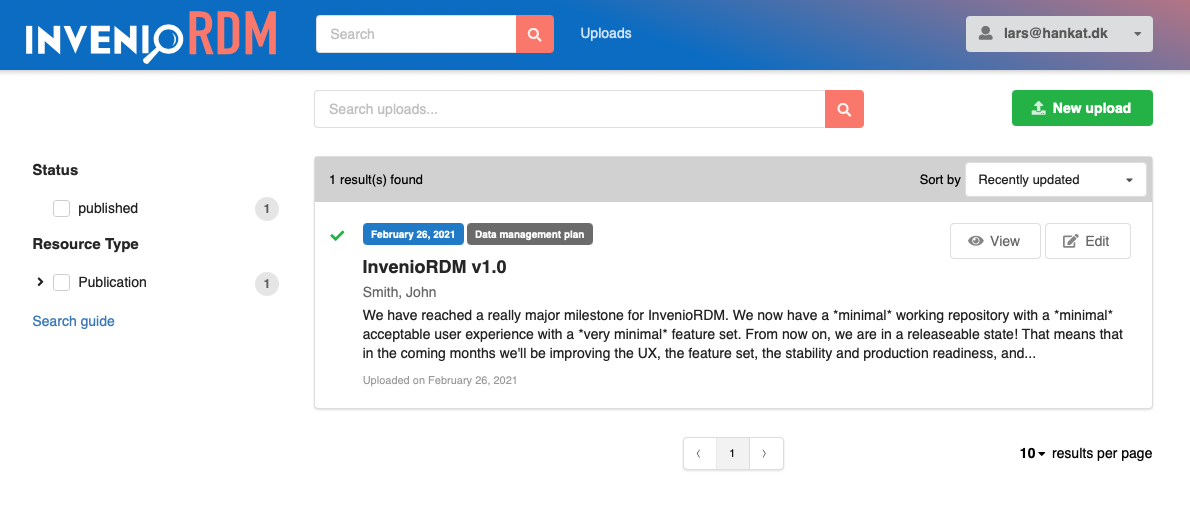 Search guide
We have added a guide (taken from Zenodo) on how to perform advanced queries. See it on https://inveniordm.web.cern.ch/help/search.
Release v1.0
We have gone through a lot of quality checking to ensure that we'll be able to upgrade data created with the v1.0 release to the coming v2.0 release. This work has focused on ensuring, for example, proper validation and integrity of the data that makes it into the database.
We have also ensured that all database tables have proper upgrade recipes for our automatic schema upgrade system (Alembic).
Known issues
Landing page
Preview: The image previewer is not using IIIF and only previews images up to 500kb.

Preview: If you e.g. upload a .JPG extension file, you can set the default preview for the file, but the list of files will not have a preview button.

Preview: The caption of the preview box does not change when selecting another file for preview.
Deposit form
Validation error messages: The form validation error messages are not displaying correctly. Labels are system names, and sometimes [Object (Object)] is displayed for errors.

Missing files: If files are missing to be uploaded, the publish button is disabled, but there no feedback to the end-user that files are missing.

Performance: We have seen some slight performance issues when entering information into the form. We're looking into this, to make sure it is not noticeable.

Affiliations vocabulary: We have not initialized the affiliation vocabulary, and thus there is no auto-completion for affiliations (creators and contributors).

Publish button: It is not enabled when reloading a page with a valid record - you first have to save the record for the publish button to be enabled.

Protection: The files restriction in the protection widget only become visible after uploading a file. It should be hidden only for metadata-only records.

Languages: The language vocabulary search results are not ranked properly for the query. For instance searching for "english" will show less relevant results first.

Creators: The list of creators in the deposit form does not display the role nor identifier if entered.
Search results
HTML entities (e.g.  ) in the description fields are not removed from the descriptions displayed in search results, causing them to be printed verbatim.
List uploads
Facet: The search facet distinguishing between published and drafts on the list uploads page is using system labels instead of human readable labels.

The title of a search result item is not clickable even though it looks clickable.
Backend
Embargo records are not automatically published due to the missing background job.

The REST API JSON serialization has timestamps that are not in UTC, nor do they have timezone information.
Installation
Some versions of NPM 7 are known to cause issues -- NPM 6.14.5 is recommended.
Install
If you previously installed InvenioRDM, make sure you have the latest Docker image of your choice according to the Python version:
docker pull inveniosoftware/centos7-python:3.6
docker pull inveniosoftware/centos8-python:3.7
docker pull inveniosoftware/centos8-python:3.8

To install:
pip install --upgrade invenio-cli
invenio-cli check-requirements
invenio-cli init rdm
cd my-site
invenio-cli containers start --lock --build --setup

This month's version of invenio-cli is v0.22.0.
To stop the instance without destroying the records that were created, you can just run:
cd my-site
invenio-cli containers stop

To destroy the Python virtualenv, and remove the docker containers, you can run:
cd my-site
invenio-cli destroy

Feedback
First, check if you've hit a known issue.
Bugs: First check for known issues above, then report them on the Invenio-App-RDM repository on GitHub.
Feedback: Suggestions for improvements, results of user testing, etc. - please reach out to Lars directly (chat or mail).
Credits
The development work in this release was done by:
CERN (Lars & Zach)
Northwestern University (Guillaume)
TU Graz (Mojib)
TU Wien (Max)
A special thanks goes to Max and Mojib as well as their institutions TU Graz and TU Wien for joining full-time during the February iteration. This made it possible to reach this month's milestone for the regular team from CERN & Northwestern University!
Take care and stay safe!
We are proud to announce the release of Invenio v3.4.0.
Head over to our Getting started to see it in action.
Read the full release notes.
What's new in Invenio v3.4?
New UI Framework: Semantic UI
The largest new feature in Invenio v3.4 is the release of Semantic UI as the new UI framework. This works has been under way since we released version 3.0 with a deprecation notice on AngularJS 2.5 years ago.
Semantic UI is now the new default UI framework for Invenio, replacing the existing Bootstrap v3 framework. Most importantly, we have added support in Invenio v3.4 for supporting multiple UI frameworks concurrently. This means that Bootstrap 3 is still supported in v3.4 together with Semantic UI, and that we in the future can support new frameworks.
UI Frameworks evolve very rapidly and we expect that Invenio eventually will have to go through multiple UI frameworks over it's life-time. Allowing support for multiple frameworks, isolate future changes, and even allow third-parties to develop custom themes for Invenio without impacting the business logic Invenio.
Technically the support for multiple UI frameworks works by having specialised Jinja template loading and themable webassets build systems.
Read more about the new system in User interface styling.
Reorganised documentation
We have reorganised the Invenio documentation, to make it easier for new developers to get started with Invenio.
In particular we now have a documentation overview page on https://inveniosoftware.org/documentation/ that gathers both Framework, RDM and ILS documentation under one umbrella.
We have also reorganised the main Invenio Framework documentation on https://invenio.readthedocs.io/en/latest/
Records improvements
Invenio v3.4 marks the start of some larger improvements we want to make to the overall data flow for records in Invenio. With Invenio v3.4 we are releasing new features for Invenio-Records. These improvements are not being used by other Invenio modules yet, but allows us to ensure the backward compatibility of the changes.
Overall, the changes made to Invenio-Records focuses on having records stored in separate database tables/Elasticsearch indexes and making a simplified programmatic API that is less error prone to use.
The following only describes the new featuers at a high-level.
Dumping/Loading support
Records now supports dumping and loading of records. This will eventually replace the using signals for customising the JSON being indexed, as well as standardising the record being loaded from Elasticsearch, database or other sources.
Type support
Currently, a record only supports native JSON data types. In particular, date/time data types are not supported. We have now added the possiblity to support that certain fields inside your JSON have custom data types (such as datetime).
Extensions
We have added support record extensions as a mechanism for replacing signals. Overall the signals were causing issues, because you often needed signals per type of record you were dealing with. With the extensions, you can now more easily hook into
System fields
A typical issue you would deal with in Invenio is to create a record and a persistent identifier. System fields allows you to easily compose a record type with new features, so that e.g. Record.create(...) will also automatically create a persistent identifer.
Backward compatibility
All changes are backward compatible thus existing source code and stored records will continue to work with the latest release.
Testing improvements
GitHub Actions instead of Travis CI
We have moved almost all our 100+ repositories from using Travis CI as the continues integration system to GitHub Actions. This was due to Travis CI imposing a migration from .org to .com and lowering the total number of resources availble for open source projects. Overall, this meant very long waiting times for pull-request builds as well as PyPI releases. We have therefore migration to GitHub Actions. We would like to thank Travis CI for the service they have provided through out the years to the open source community.
Reprodicible tests
We have developed a new tool Docker-Services-CLI, that helps bring up/down required services such as databases, Elasticsearch, etc for testing. This makes it easier to investigate specific test failures locally, as well as making it easier to migrate between continuous integration systems.
Centralised test dependencies and Pytest-Invenio
With the release of Pytest-Invenio v1.4 we have centralised test dependencies to a single module, and can more easily control breaking changes from third-party packages. Previously new version of isort and pytest have been causing wide-spread test failures due to minor changes.
Minor changes in v3.4
Invenio-Accounts:

Password length validation during login was removed.
"Log in" instead of "Sign in" is now being used consistently throughout the application. Previously both version could be found.

Invenio-App:

The /ping endpoint (used by e.g. load balancers for aliveness checks) now also supports HEAD and OPTIONS HTTP verbs as recommended by e.g. HAProxy documentation.

Invenio-Celery

Only Celery to 4.4.x to 5.0.x releases are supported. Note, Celery have declared Celery 4.4.x as a Long Term Support release. Note, that Celery changed command line arguments from celery worker -A <app> to celery -A <app> worker between version 4 and 5.

Invenio-DB

Now support SQLAlchemy <1.4 which include e.g. PostgreSQL 12 support.
Hides the database password from CLI output when running db init or db create.

Invenio-Indexer

Elasticsearch delete requests now uses optimistic concurrency control by providing the the version and version_type in delete requests. The previous behavior can restored by calling RecordIndexer().delete(record, version=None, version_type=None) instead. This fixes an issue where deleting and recreating a document right after would fail.
Invenio-JSONSchemas

Fixes an issue related to nested allOf being ignored.

Invenio-OAuthClient

Added support for CERN OpenID contrib.

Invenio-Records-REST

The header Cache-Control: 'no-cache' is now sent on successful HTTP 200 responses to ensure that browsers will not cache responses client side and ETag will be evaluated.
Invenio-REST

Fixes a bug with CSRF checking when the endpoint did not exist.
Deprecations in v3.4
Bootstrap 3
Bootstrap v3 has reached end-of-life and will no longer receive further updates from their maintainers. Migrating to Bootstrap v4 or v5 is as difficult as upgrading to Semantic UI and there are no easy migration paths.
We will continue to support the Bootstrap v3 integration throughout the maintenance period of Invenio v3.4. Invenio v3.5 may move all Bootstrap 3 templates to a separate Invenio package, that you could install, however v3.5 will not add new Bootstrap 3 templates.
You should plan allocating time for a migration from Bootstrap 3 to Semantic UI during 2021
Features removed in v3.4
Elasticsearch v2 and v5 support
We have removed support for Elasticsearch v2 and v5 as announced in v3.3. Elasticsearch v2 and v5 have reached end-of-life and is no longer maintained with security fixes, thus you should strongly consider upgrading in case you have not already done so.
AMD/RequireJS
The old AMD/RequireJS assets build system, that was deprecated and replaced with Webpack in Invenio v3.1 has now been completely removed from the code base.
Maintenance policy
Invenio v3.4 will be supported with bug and security fixes until the release of Invenio v3.6 and minimum until 2021-12-17.
See our Maintenance Policy.